The management at IMM HYDRAULICS are continually seeking talented people to join our growing teams.
If you are experienced, passionate and ambitious in design, manufacturing, engineering, business development, logistics, sales or marketing, we are interested to hear from you.
The only way to do a great job is to love what you do.
Please connect with us through social media or send us your profile
Meet a few of the people in our group…
Olivier Orlando – Product Manager – Machine Division – IFS Italy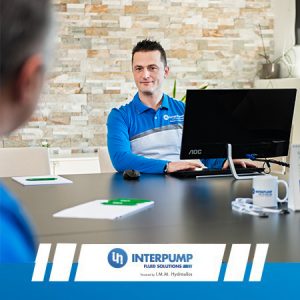 Hi, my name is Olivier Orlando and I am a Mechanical Engineer. I've applied to I.M.M. HYDRAULICS in 2017, keeping up the challenge to develop our business unit for machine manufacturing. Thankful to unanimous team work together with highly qualified professionals, today we are exporting our machines in more than 70 Countries all around the world. Our strength lies in the ability to imagine the future and make it available for the present.  A travel has started and new challenges are coming up along the way, to face with by our creativity and capacity to innovate. What I'm expecting for my future as Product Manager is to take care of Customer needs providing them our best engineered solution.
Personally, I've a lot of interests due to my curious approach to life. I like to travel, to meet people, being in contact with different cultures from ours, to continuously discover and learn. I love every form of art and I spend part of my free time to play blues by guitar and for my personal fitness.
I trust in these words: "Also a one thousand miles travel, begins by a single step".
Hervé Hennerich – Branch Manager – IFS France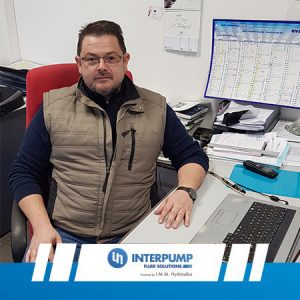 Hello I am Hervé Hennerich, Manager of Hypress France, a branch of Interpump Fluid Solutions.
In 2007 I created the Hypress Point Services Shop which became the Hypress France logistic center 4 years ago. I have built up 23 years of services shop's management and hydraulics fluid connections, with a wide range of customers.
My goal, with my team, is to give the best service, to grow and to always try to find the best solutions for our customers.
My latest challenge is to give to the Interpump Fluid Solutions branches in France the knowledge of the different possibilities of hydraulics connections. I am proud of the evolution they can now have now with my my technical support .
Music is my first love, but sometimes I lose myself in my garden.
Stefania Verratti – Marketing Manager – IFS Italy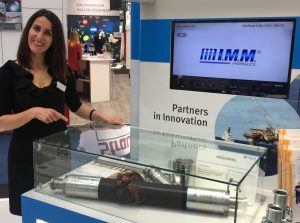 Hi everyone!
My name is Stefania Verratti and I am the Marketing Manager at Interpump Fluid Solutions.
I've been working in the Interpump Group since September 2000: 4 years in the Logistic Department; 13 years in the Sales Department.
My experience in Sales has given me the opportunity and the privilege to have direct contact with the customers and listening to customer requirements is the base of marketing.
My new role is a challenge and I like it!
I'm really proud to launch the new brand Interpump Fluid Solution into the market and my goals, together with Interpump Fluid Solutions team will be to create SOLUTIONS for our customers and strong PARTNERSHIPS.
My key strengths come from my interests, past work experiences and the challenges that life reserved to me. My motto is "Never Give Up!"
Vincenzo Ciarelli – Quality Manager – IFS Italy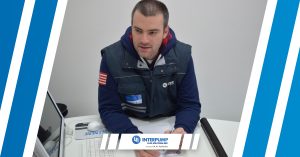 Customer is my priority!
This is the Quality Department's main target for this year and this is the message that we want to pass within the company. We want to improve all the manufacturing-and-not processes in order to increase costumers' satisfaction. We'll therefore direct the know-how, the experience, our strong motivation for improvement towards the costumer, because we believe these drivers are synonyms of reliability and trust.
Discover the interview at the following link: Vincenzo Ciarelli (IMM Hydraulics): the challenges of a QM – Interpump (interpumpfluidsolutions.com)
Jimy Schmidt – Area manager – IFS Germany
Hello out there,
my name is Jimy Schmidt and I'm the Area manager of Interpump Fluid Solutions Germany GmbH. I have joined the Team in 2016 and I'm taking care of the markets
in South Germany, Austria and Switzerland.
As I'm working in the hydraulic field since 1996, I'm very pleased to support all customers and the Interpump Fluid Solution Team with my competent knowledge.
My role in this group gives me the chance, to meet almost daily new people and applications. And that there is always something new I can learn from the market.
I believe in the vision of our Company, our strategy and our strength. I'm always very excited about our continuous new releases and products which solves your problems.
My spare time is fully booked as I have 2 boys and riding my Kawasaki Z750 Motorbike.
Furthermore I like to cook, to travel and to relax on the best beaches in the world. I live on an "always stand up, if you fall down"- mentality.
Please do not hesitate to contact me or my colleagues, or to meet us on any attending exhibition.
Lorenzo Panzone – Technical Manager – IFS Italy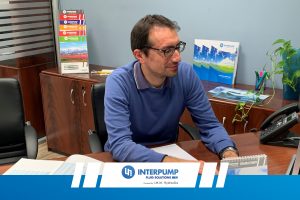 Some of the processes the Technical Manager is responsible are:
Product Design, Development and industrialization;
Product Certification;
Technical Documentation issue.
Another main task is to ensure that the documentation, procedures and communication flows smoothly. Also ensuring everything is in compliance with our high standards. After all, our target is – "Excellence". As I.M.M. Hydraulics core business is technical products (Hose, Fittings & Machines) It is paramount the technical manager keeps everything clear, precise and accurate. Alongside this I have to consider the technical needs of our two crucial stakeholders:
Customer: specification, requirements, requests;
Company: the technical business unit is responsible for the correct communication aimed to inform and to train towards production (process engineering and documentation), marketing (technical documentation to support the proper product launch in the market), sales (technical support), quality (specs definition in order to define the related control plan), purchasing (in order to define the proper terms of purchase for the supplier).
Discover the interview at the following link: Meet Lorenzo Panzone, Technical Manager at I.M.M. Hydraulics – Interpump (interpumpfluidsolutions.com)
Paolo Mellano – Sales Engineer – IFS Italy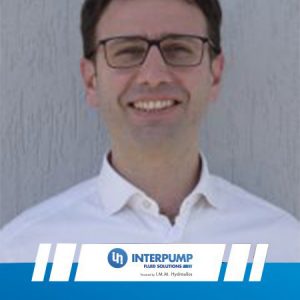 Hello everybody, my name is Paolo and I started working in IMM in 2016 in the Sales department.
I'm an Engineer with long experience in hydraulics and I'm proud of making it available to my colleagues, our customers and commercial partners. I found in IMM a very exciting working team with the right competition level that helps us to achieve our goals as well as yours.
I love this job that allows me to be in daily contact with international partners and our technicians and to keep an open mind. 
In my spare time, I love to spend my time with my family, I like building and shaping object with wood and driving my enduro motorbike all around our amazing mountains.
Connect with us on Social Media