IMM HYDRAULICS est constamment à la recherche de personnes talentueuses pour se joindre à nos équipes en pleine croissance.
Si vous êtes expérimenté, passionné et ambitieux dans la conception, la fabrication, l'ingénierie, le commercial, la logistique ou le marketing, vous nous intéressez.
Veuillez vous connecter avec nous via les réseaux sociaux ou nous envoyer votre CV.
risorseumane@imm-hydraulics.it
Faites connaissance avec nos collaborateurs
Hervé Hennerich – Branch Manager – IFS France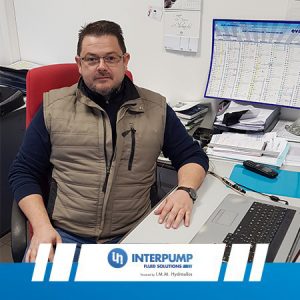 Hello I am Hervé Hennerich, Manager of Hypress France, a branch of Interpump Fluid Solutions.
In 2007 I created the Hypress Point Services Shop which became the Hypress France logistic center 4 years ago. I have built up 23 years of services shop's management and hydraulics fluid connections, with a wide range of customers.
My goal, with my team, is to give the best service, to grow and to always try to find the best solutions for our customers.
My latest challenge is to give to the Interpump Fluid Solutions branches in France the knowledge of the different possibilities of hydraulics connections. I am proud of the evolution they can now have now with my my technical support .
Music is my first love, but sometimes I lose myself in my garden.
Fabio Di Giacomo – Production Manager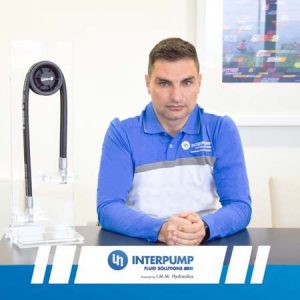 My name is Fabio Di Giacomo, I'm the Production Manager Fittings and Hoses Division  in I.M.M. Hydraulics. I have a wife, two daughters and a dog (she's a girl of course), and they get most of the time I spend out of the office, however apart from trying to keep my wife happy, I like spending my spare time having fun with my bike, running or playing football, however what relaxes me the most is growing truffles in the small village surrounded by nature where i grew up. I proudly joined the company 8 months ago, after spending more than 20 years in the Oil & Gas business, working for american and japanese companies . So.. I'm pretty new in this industry, I have a lot to learn about, but I'm looking forward to giving my contribution to make IMM great .This is a company that makes high quality products, made, designed and engineered in Italy, investing in Abruzzo and this makes me proud of being part of it. From the operations side, the team is working to maximise the production capacity to give the best service to our clients, which is the most challenging topic in the current period. At same time the team's focus is on the definition of SMART targets aiming to achieve our KPIs and workers engagement, by using the best practices for the continuous improvement, starting from the "gemba" and involving the entire organization. I strongly believe in people, in teamwork . I like working with people who share ideas, who spread competences, who have a positive approach and who can see the challenge in the difficulties. This is the kind of mindset I like to work with and I'd like to promote within my team. It's just a matter of time: I.M.M. is gonna be the BEST IN CLASS!
Lorenzo Panzone – Technical Manager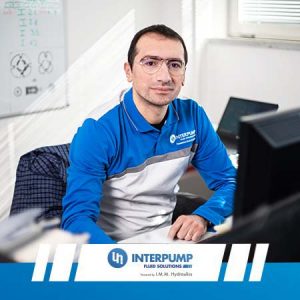 Some of the processes the Technical Manager is responsible are:
Product Design, Development and industrialization;
Product Certification;
Technical Documentation issue.
Another main task is to ensure that the documentation, procedures and communication flows smoothly. Also ensuring everything is in compliance with our high standards. After all, our target is – "Excellence". As I.M.M. Hydraulics core business is technical products (Hose, Fittings & Machines) It is paramount the technical manager keeps everything clear, precise and accurate. Alongside this I have to consider the technical needs of our two crucial stakeholders:
Customer: specification, requirements, requests;
Company: the technical business unit is responsible for the correct communication aimed to inform and to train towards production (process engineering and documentation), marketing (technical documentation to support the proper product launch in the market), sales (technical support), quality (specs definition in order to define the related control plan), purchasing (in order to define the proper terms of purchase for the supplier).
Discover the interview at the following link: Meet Lorenzo Panzone, Technical Manager at I.M.M. Hydraulics – Interpump (interpumpfluidsolutions.com)
Vincenzo Ciarelli – Quality Manager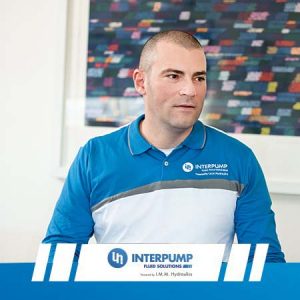 Customer is my priority!
This is the Quality Department's main target for this year and this is the message that we want to pass within the company. We want to improve all the manufacturing-and-not processes in order to increase costumers' satisfaction. We'll therefore direct the know-how, the experience, our strong motivation for improvement towards the costumer, because we believe these drivers are synonyms of reliability and trust.
Discover the interview at the following link: Vincenzo Ciarelli (IMM Hydraulics): the challenges of a QM – Interpump (interpumpfluidsolutions.com)
Paolo Mellano – Sales Engineer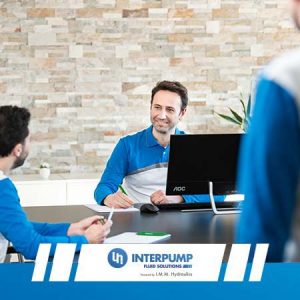 Hello everybody, my name is Paolo and I started working in IMM in 2016 in the Sales department.
I'm an Engineer with long experience in hydraulics and I'm proud of making it available to my colleagues, our customers and commercial partners. I found in IMM a very exciting working team with the right competition level that helps us to achieve our goals as well as yours.
I love this job that allows me to be in daily contact with international partners and our technicians and to keep an open mind. 
In my spare time, I love to spend my time with my family, I like building and shaping object with wood and driving my enduro motorbike all around our amazing mountains.
Olivier Orlando – Product Manager – Machine Division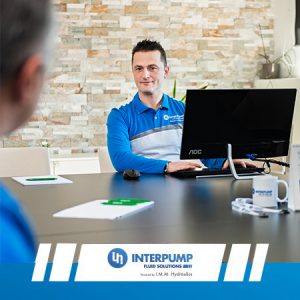 Hi, my name is Olivier Orlando and I am a Mechanical Engineer. I've applied to I.M.M. HYDRAULICS in 2017, keeping up the challenge to develop our business unit for machine manufacturing. Thankful to unanimous team work together with highly qualified professionals, today we are exporting our machines in more than 70 Countries all around the world. Our strength lies in the ability to imagine the future and make it available for the present.  A travel has started and new challenges are coming up along the way, to face with by our creativity and capacity to innovate. What I'm expecting for my future as Product Manager is to take care of Customer needs providing them our best engineered solution.
Personally, I've a lot of interests due to my curious approach to life. I like to travel, to meet people, being in contact with different cultures from ours, to continuously discover and learn. I love every form of art and I spend part of my free time to play blues by guitar and for my personal fitness.
I trust in these words: "Also a one thousand miles travel, begins by a single step".
Domenico Vizzarri – R&D Manager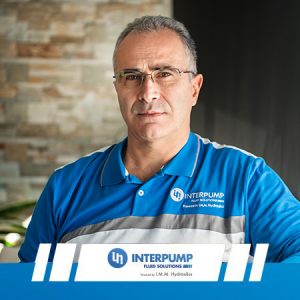 Hello everyone, my name is Domenico Vizzarri responsible for the research and development of the divisions of the hose and fittings.
I have been working in IMM for over 20 years, with thirty years of experience in the sector. I joined IMM to develop the tube division to complete the product range, and I was responsible for it until 2011. I directly followed all the hose production plants, from the development of the layout to the start-up and optimization of the lines.
As research, development and innovation, I have dealt and I deal with:
– For the hose division, of new products both braided and spiralled with steel or textile reinforcement, carrying out the design, prototyping, issue of specifications and release of process parameters, for those already in production, optimization and improvement of them.
– For the division of fittings, study of new details, improvement and optimization of existing ones.
As a team, we provide support to other company figures, for example: company management, sales, sales technician, product managers, production departments, quality control and laboratory.
We design new products also for particular applications, following specific market requests, or we propose innovative solutions. All this has resulted in several patents on pipes and fittings.
I like to think that all the work done in recent years has generated products that have allowed the company to expand and be increasingly appreciated in the fluidic power transmission sector, quoting Elon Musk: "A successful company is always built around excellent products ". For the future, as in the past, we will continue to put the same passion, attention, competence, professionalism and curiosity into our work, confident that they are all essential skills to provide the customer with a product that works and is correctly positioned in the market. Passionate about aphorisms, I want to quote one of mine: "Our past actions say who we are, those present will say who we will be".
Roberto Adorante – HR Manager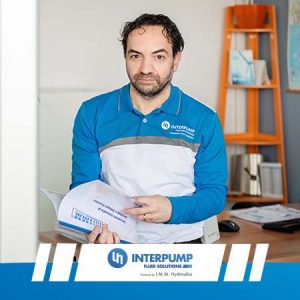 Hello everyone, I'm Roberto Adorante, head of human resources of the IMM group. I joined IMM in 2004 after graduating, with experience in a business and labour consultancy office. I have worked in this company for 17 years and through these years, I am happy to have actively contributed and participated in the growth of IMM. Speaking in numbers, from just over a hundred people in the early 2000s, to today with more than 600. In recent years I have managed the processes of hiring and managing human resources, contributing to the birth of the various Italian projects. This has been a professional and personal growth for me, and for this I am grateful to this company to which I am particularly attached. I could introduce my work "academically" as head of an HR office that manages various functions: from personnel research and selection, to resource evaluation, from training planning, to trade union relations, from management of work environments, to resource development human resources, from the administrative management of the personnel to the labour regulations. But I prefer to define my job as manager of the person's office. It is essential to manage the person with his moods, his ideas, his diversities, his behaviours and try to understand what is necessary for the well-being of the person himself and for the company climate, and this must not only be the prerogative of an HR office, which is the owner of the processes, but must be the prerogative of all those who manage collaborators. Taking care of the workplace and human relations is the fulcrum on which to build the quality of life in the workplace. Another distinctive feature of a human capital manager is fairness. Managing without preferences is essential for the respect that everyone must have within their organization. It is necessary to manage the diversity of behaviour while maintaining corporate equality. We should all seek diversity to work for equity. As can be clearly defined, we work with diversity to be fair. Challenging work … And empathy is very important in all of this. It is necessary to focus attention on the adequacy of the working environment and on the possibilities that it meets the needs of individuals. Human capital remains the most important part in a business organization. Even in the future, human resources cannot be replaced by "machines" and this is another peculiarity of the "person". Work activity will change with the advent of Industry 4.0, the fourth industrial revolution, that will lead to fully automated and interconnected industrial production, but people will always remain at the centre of work. In fact, in the future it is essential to train staff and not only in technical skills, but in the culture of the individual. I conclude by saying what I recommend to school children in the meetings and interventions that I usually do in the various institutes and which are the future of our society: BE CURIOUS. Curiosity is the lever that will push our future generations, it was in the past, it is in the present and it will be in the future.
Teresa Casertano – Head of Administration and Management Control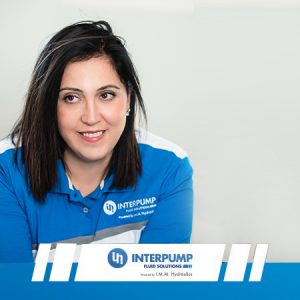 I 'landed' in IMM in February 2008, when my adventure within the administration, finance and control area began.
My 'team' and I literally live with and for the numbers! I have always maintained that the number was not something 'aseptic', but the result of a dynamic process made up of analysis, calculation and synthesis, which arises daily from continuous collaboration with the entire organizational structure.
These synergies guarantee the correctness, completeness and transparency of the processes of formation of the documents representing the economic, financial and equity dynamics.
I always approach work and new projects with a lot of enthusiasm and curiosity. I do not know boredom and this has always encouraged me in my professional career so much so that I am able to 'supervise' my area with great satisfaction (also thanks to the support of my highly capable and competent colleagues).
What to say? I love art in all its expressions and I am passionate about history. As soon as I can, I go back to my homeland (Campania) to enjoy my loved ones and my 'youth' friends.
My wish for the future is that the path of change, evolution and innovation that has characterized all of us who have joined IMM in recent years, continues and lasts over time.
The 'motto' of my team is " Chi addumman, non sbagl!" … which translated would mean: "Those who ask, make no mistakes!": This is because I believe that moral and professional honesty is measured on the basis of the ability to know how to compare and share.
Pierluigi D'Alonzo – Product Manager – GS-Hydro and Stainless Steel Fittings Division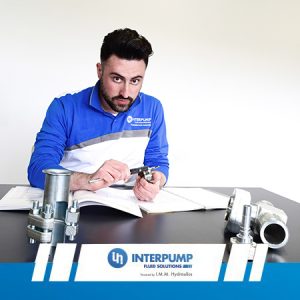 Hello everyone, I'm Pierluigi, the product manager in charge for the GS-Hydro and stainless steel fittings division. I'm part of team specialists and togheter we manage all the main applications which IFS is able to offer into the market. From my point, we are talking about the flange connections for non-welded piping systems and the whole range of stainless hose fittings and adaptors, which find a large use into marine and off-shore sectors.
I'm working in Interpump Fluid Solutions since 2018 and from the beginnig I immediately understood how being part of this group makes you feel in constantly growing and able to deal with new challenges stimulating my curiosity and desire for knowledge. As an engineer, in fact, I believe that these are fundamental attitudes to bring passion into one's work, can allow you to achieve the set goals, both business and professional. I learned that you need to know detailed aspects of the product, the market and the customer, as well as it's necessary to have a clear strategic vision of many different processes and activities. This is what causing you to have a great operational flexibility, teamwork and spirit of change, which means to think "out of the box" breaking traditional patterns. I like to apply this mindset also outside of work, together with a great curiosity for everything what strike me, such as outdoor activities, sports, engines and mechanics in general.
My goal for the future, it will be to spread more and more the IFS brand knowledge, throught of the wide range of solutions we can offer and doing perceive the reflection of excellent corporate work, with which we build our success every day.
I get inspired from a phrase that an Abruzzese, like me, said not so long time ago, which I ask myself every night: "is this place a better place than you found it in the morning?" and we can summarized with the words "make a difference".
Mauro Di Iorio – Product Manager Fittings Division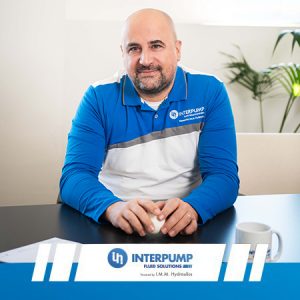 Hello everyone, I'm Mauro Di Iorio and people say that I am a "long time employee" (I don't know if the meaning is positive or negative …) since I have been with IMM for 29 years. My relationship with my IMM is true love, it is no coincidence that I was hired on Valentine's Day, February 14th, 1992.
Having joined the group at a very young age, my personal and professional growth occurred simultaneously with the company development: I witnessed the transformation of IMM from a small family-run business to a large company that now is part of an important Group listed on the stock exchange.
I started working at the age of 19 in a small company, with few people, and this gave me the opportunity to gain experience and learn about all aspects of the "factory" and the product; in fact I ranged from making the first IMM catalogue with glossy paper and ink pens (at that time the CAD was a luxury) to preparing shipments, from having contacts with the first customers to assembling pieces for an urgent shipment … and I may never stop!
Thanks to all this experience I achieved a wide knowledge about fittings and the natural consequence of this path has led me to fill the role of Product Manager – fittings division.
The role of PM poses very stimulating challenges, you need to have a general overview both on the market and on the process to do this kind of job in the best way.
Following some skills that a PM must have:
Understanding how the competition "moves"
Grasp the inputs deriving from the market
Find out about the evolution of materials in order to produce respecting the environment
Being updated on technological innovations to seize opportunities to tend to produce with the best possible quality, safeguarding safety at work, with the lowest possible energy consumption.
About IMM… and no more me, I must say that I am proud of the choice made a long time ago because this company is characterized by different strengths, not just technical; I list only a few, the most salient for me:
Wide range of products
Integrated system for hoses, fittings and, for some time, also adapters
Promptness in reacting to specific customer requests
Young and dynamic "team"
I could go on for hours in listing the strengths but, ultimately, what I can say is that this company has "the ambition of continuous improvement" in its DNA.