Ten special tips from our CEO Marcello Di Campli, listen to the podcast now!
<<In a world that changes and is subject to unpredictable negative events such as the recent Covid-19 pandemic, companies destined to survive and prosper will have to adopt innovative management models and differentiation. I will try in a few minutes to synthesize what the IMM group has done and is doing respond to these mutations.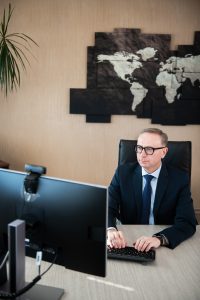 1. Vision. We continue to believe that the human resource is the core of our daily actions. In fact, our vision is the firm intention to create a value for all stakeholders through our work: shareholders who invest, workers who guarantee the product, public institutions that regulate the environment for production and to which we provide the resources by taxation, in order to maintain balance in the system.
2. Strategy. Today, more than yesterday, we believe that offering a complete solution through flexible connections with medium-high pressures is our main goal. Rather than supplying individual products, our future strategy will increasingly be the proposal of an integrated system of flexible hose, fittings, adapters, and machines for its assembly. A complete package, safe and guaranteed!
3. Sustainability. We want to implement our strategy taking care of our Planet, so we will invest in the coming years an important part of our budget in projects that reduce the consumption of natural resources: photovoltaic systems on our plants and replacements of all lighting fixtures with energy-saving led, controlled by demotic systems.
4. Safety, environment and quality. The attention to safety and the environment in our plants is a priority for our managers. We obtained all the certifications to support, and also we constantly monitor every possible risk signal in order to adopting the necessary corrective actions. Significant investments have been made in recent years in safety. Investments in quality over the past 4 years have more than doubled compared to the previous 4 years. The results in terms of drastic reduction of complaints are evident from the data collected each month.
5. R&D. Research and development of new products is one of the strengths of the IMM Group. Over the past three years, more than thirty new products/improvements to existing products have been developed! R&D investments have exceeded 4 million euros by providing IMM with one of the most advanced laboratories in the field of flexible connections for medium-high pressures. IMM with the Interpump fluid solutions brand, is increasingly considered a jewel of technology and innovation thanks to its ability to offer an integrated and guaranteed solution with performance above the industry average. Our challenge for the future is to explore new areas of application: water, steam, air, hydrogen and new fluids.
6. Human Resources. Our workers are the secret of our success. Behind every innovation of process or product hides the work of hundreds of workers who add a tile to the complex mosaic, day by day, with dedication and humility.
7. Sales. We have oriented our action towards new markets like North America and Asia, obtaining the first positive feedback in terms of interest and orders.
8. Marketing. It's a new task for us! We are investing a lot in marketing because we think that the good work done should be communicated to the market in the correct way.
9. Customer service. A project to improve planning systems and customer service started three years ago. Compliance with delivery dates is monitored daily by a team of engineers to ensure maximum reliability in shipments and responses to our customers.
10. Operations. We approved a few months ago a lean project intended to shift the focus of the company from the product to the value it brings for the customer through a continuous hunt for waste reduction.>>
https://www.interpumpfluidsolutions.com/wp-content/uploads/2021/04/DSC_5516-scaled.jpg
2560
1709
rosellapresenza
https://www.interpumpfluidsolutions.com/wp-content/uploads/2020/11/Logo-300x104.png
rosellapresenza
2021-05-04 15:51:10
2021-05-04 15:52:53
IFS Management Tips: How to face the challenges of everyday life and stay on the clock. 10 Tips to be "a fluid Company"