In this third episode of IFS Management Tips, our CPO – Chief Procurement Officer & CEO – Chief Executive Officer IMM Hydro Est Alessandro Verratti shares with us an important solution about "Resilience, agility and risk management in the supply chain".
Listen to the podcast: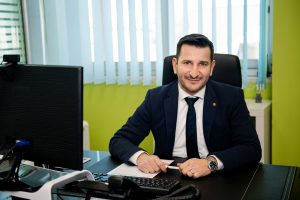 <<The COVID-19 pandemic forces Chiefs Procurement Officies to wonder if the actual supply management system is the best?
The first goal of a Chief Procurement Offices is to improve customer service while at the same time reducing costs. We must admit that most of the times supply chains are designed for cost efficiency primarily.
The challenge for supply chain leaders and their organizations now is to find a new balance between cost, speed and service in a quick changing landscape where uncertainty and higher customer expectations go hand in hand.
To succeed in these scopes is fundamental the risks management policy in order to control threads related to stock management, stock ages and related financial costs, transport costs and related transport time, exchange rates risks, Country risks etc…. If we measure theese risks we are sure to be reducing the gap between European manufactures versus Far-East ones. If we consider what is happening to containers cost trends in the last months the comparison is better and better….
One of the top priorities for companies now is to improve supply chains' resilience and agility in meeting customer needs, with a strong control of margins.
As management tips, to improve customer service keeping monitored costs and margins, I would consider the following:
Important and increasing percentage of "domestic" suppliers. E.g., a company who manufactures in Europe, in my opinion, must largely buy in Italy, in Europe or at least from an area compatible with maximum 4-5 days of transit time. In alternative, needs to require European warehouse and or consignment stock contracts to suppliers too far.
A new European industrial policy able to push and to attract new and big investments in Iron mills, synthetic rubber and plastics industries, chemicals etc… is dramatically needed.
In the last decades we can easily count a hundred episodes of delocalization driven by new hypothetical cost bases and low environmental sensitivity or lower environmental costs with the result of a decreased offer from "European" manufacturer.
Now, thanks to new green technologies, to monetary stimulation and European investment programs like Recovery and Resilience founds, we could have the opportunity to have new or reconverted steel mills or chemical reactors moved by green hydrogen ,sea waves, wind, sun etc….
Continuous investments in supply chain digitalization. COVID-19 acted as a catalyst, accelerating the transformation. It's really interesting to be discovering the tools coming from artificial intelligence (AI) and robotic process automation (RPA), 5G, IoT, hyperautomation, cyber and data security.
Those technologies can be used on the operational level enhancing strategic planning and forecasting, improving the overall efficiency (OE) of the supply chain, in picking and packing tasks assuring traceability through track and trace solutions, smart packaging like RFID, NFC to assure real-time stock updates and localization.
To conclude, I'm sure that we'll be soon in the condition to over evaluate suppliers with a sustainable environmental policy with a low carbon footprint operating in a circular economy that allows them be "local", clean and competitive at the same time.>>
https://www.interpumpfluidsolutions.com/wp-content/uploads/2021/03/DSC_1764_corretta-low-scaled.jpg
1707
2560
rosellapresenza
https://www.interpumpfluidsolutions.com/wp-content/uploads/2020/11/Logo-300x104.png
rosellapresenza
2021-04-01 07:03:55
2021-05-04 16:24:11
IFS Management Tips "Resilience, agility and risk management in the supply chain"