In this first episode of IFS Management Tips, our Chief Commercial Officer Pierluigi di Bartolomeo tackles an extremely pressing and highly topical issue: "To be a sales person in times of Covid".
Listen to the first Interpump Fluid Solutions podcast: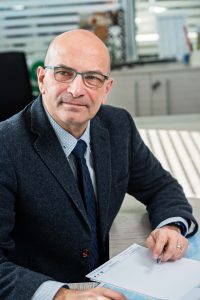 <<We could consider how being a sales person could very often just mean to be more able to "trade-off between" supply and demand (is it a case that the commercial negotiation purpose is finally juts a "trade offer" …?).
For such a reason our continuous target is to try to find out the best way to make customers happy, whatever situation around us we are facing; that's also why during this so critical pandemic period we tried to promote our slogan "when storms come, some build walls, others build windmills", simply to try to really live a crisis with the meaning of "change", more than purely a trouble.
Due to the huge importance of personal contact in a sales relationship, commercial jobs suffered over any other activity, giving no way to count on personal talking, on feelings and on simply shaking hand.
At the same time, we have had an opportunity to make a step forward, progressing further into future technology and turn our attention to alternative tools, like meeting platforms and video-conference systems. No longer planning our time according to flight times and travel reservation agendas, but according to call conference confirmation.
On top of the logical decision to increase the use of video calls to meet with our customers and our partners, we also adopted new technologies like "virtual fairs". For example, we recently participated in the last edition of Eima, as well as planning virtual conventions with our sales force before end of this the year. We also gave people the opportunity to participate in "online" training sections, where key information on our products and services have been shared on our platforms.
Together with this, we appreciated the successful proposal and opportunity to have a "virtual tour" of our plants; more than a recorded video, we want our tour to be a way to visit the Company and be interactive, sharing questions or asking to focus on specific topics during the tour.
This opportunity has allowed us to bring customers "virtually live" at our manufacturing technologies, alongside our salespeople's web cams to present our products coming out from machines live. This has proven to be one of the most valuable tools, allowing us to start receiving orders for our new series of products in the range, like new adaptor lines.
In one way, we could say that having a sales role during such a virus period, could also mean to try to convert the sad sound of the word CoVid, adding further meaning of COnferenceVIDeo new approach to market.>>
IFS CCO Pierluigi Di Bartolomeo
https://www.interpumpfluidsolutions.com/wp-content/uploads/2021/02/DSC_0999-low-scaled.jpg
2560
1707
rosellapresenza
https://www.interpumpfluidsolutions.com/wp-content/uploads/2020/11/Logo-300x104.png
rosellapresenza
2021-02-01 07:29:23
2021-05-04 16:25:19
IFS Management Tips: "To be a sales person in times of CoVid"- our solutions