In this fifth episode of IFS Management Tips, Roberto Adorante, HR Manager of the I.M.M. Group, offers ideas and practical exercises to manage relationships with people in the workplace.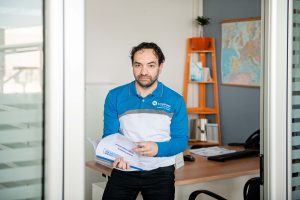 "I would like to focus on a challenge that all organisations have within them, whether they are large or small: Managing the relationships between business units and collaborators.
It is very important to let collaborators speak and to help the different areas of the business interact. I would like to address the relationship between management and collaborators, and the relationship between business units, whether they are offices or production departments.
Often the different areas work as if they were a separate entity, as if they were not part of the same corporate system. While the company is an organism composed of people and means aimed at satisfying human needs through the production, distribution or consumption of economic goods and services to customers. It is necessary to make sure that everyone can understand each other, whether it is a colleague from the same office or from another area.
Each entity must be in tune with the other and understand that the work of the other has its differences and is equally necessary and indispensable for the achievement of the company's final goal. Each business unit in the company is an important cog in the organisation.
Offices and institutions are made up of people, and to be successful, they have to relate to each other.
How often do we witness misunderstandings between offices, judgments between colleagues, differences in the workplace between employees and workers that generate differences of views that are sometimes heated?
To solve these problems, it is necessary to know the activities that each business unit and each collaborator carries out, to be able to interact together.
Try playing this game:
Choose an office or a department and on a piece of paper, write down the activities they carry out. Note the problems they encounter in order to achieve the set objectives and the times to achieve the same objectives, the relationships they have with other bodies and collaborators. Once the exercise is finished, go to the office taken as a case study, and check if your answers are correct; then continue with the other parts of the business.
Here are some tips to have effective strategies for managing conflicts at work:
listening and understanding, the first step towards solving problems.
manage relationships empathetically.
prefer a constructive approach to conflict resolution, this allows you to accept and appreciate differences.
recognize the contribution of others to a project or decision.
Neither losers nor winners must emerge from an elaborate conflict, but people who are satisfied with having found a meeting point.
do not attack the person but focus on the problem.
assume an impartial attitude without judging.
keep calm and in control of the situation.
avoid unnecessary conflicts.
do not try to override or dominate the discussion, but discuss in a direct, honest and assertive way.
do not be too critical, it could be frustrating for the other.
In managing conflicts at work, the primary objective is not to criticize or punish people.
We always encourage teamwork, keep calm and find common ground, to create fertile ground, where everyone's motivation can be cultivated. The mistake of being able to eliminate a conflict is often made, but this is not possible since it has roots in the relationship with others.
"There is no progress without conflict: this is the law that civilization has followed to this day." (K. Marx).
Conflicts in relationships between work colleagues are normal but if we know how to resolve them in the right way they will bring value and innovation to the business."
Discover more about Roberto Adorante in the team presentation page.
https://www.interpumpfluidsolutions.com/wp-content/uploads/2021/07/Roberto-Adorante-IMM-Hydraulics-Interpump-Fluid-Solutions-hoses-management-tips-crop.jpg
2280
2280
rosellapresenza
https://www.interpumpfluidsolutions.com/wp-content/uploads/2020/11/Logo-300x104.png
rosellapresenza
2021-07-12 10:20:04
2021-07-12 10:32:34
IFS Management Tips: "Managing the relationships between business units and collaborators"