In this episode of IFS Management Tips we are going to discover new projects and new investments for a cutting-edge present and for a better future.
Listen to the IFS podcast of Marco Agnifili, Chief Operating Officier: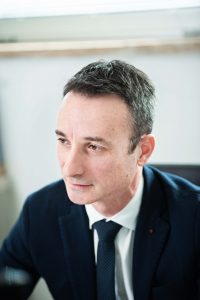 <<For the IMM group, sustainable manufacturing has been a very high priority over the last five years. It has guided more and more of our manufacturing choices and raised awareness that sustainability and efficiency go together.
What do we mean by "producing in a sustainable way"? Basically, it is a conscious and responsible use of available resources, in order to have as little impact as possible on the environment, increasing efficiency and better working conditions.
We work every day to find "green oriented" solutions.
These were our steps towards a more sustainable path:
– In 2016 for the first time, IMM achieved the environmental certification ISO 14:001 for all the production plants in Italy and Internationally.
– Carried out a plant layout review and optimization of manufacturing plants.
– Rethinking all of the manufacturing flows between our plants in order to reduce transports.
– The Incorporation of manufacturing plants.
– Ensuring a common approach, by spreading the message to all the companies controlled by IMM.
– Renewable energy production systems and trigeneration.
– Specific improvement projects.
Now let's take a look at some of the IMM projects that have reduced their environmental impact and let's consider all their effects.
Efficient use of water
The optimization of the cooling system test-room test benches.
The original structure consisted of a unique circuit between the heat exchanger of individual test benches and the cooling tower. This structure was replaced by a double system composed of two different circuits: A primary circuit which works directly with a cooling tower, and a secondary closed circuit that distributes cooled water to the test stands.
What results did this achieve?
– Reduced the need for maintenance on the secondary circuit. In particular, the regular cleaning of the heat exchanger has changed from an average of 4 maintenances per month, to once a year.
– Less consumption of water (less 6.000 cubic meter/year, that means  – 70% );
– No more machine-downtime for overtemperature.
Workplace
The pursuit of better working conditions has led us to carry out a specific analysis on the use of reel take up and pay off systems.
Thanks to this analysis we have decided to increase their safety level in order to minimize the risk, especially for fast Systems (those with peripheral speed higher than 5 m/min).
This new standard, implemented on all the installations at the Atessa plant, has increased the safety level and workstations ergonomics.
Waste
This is a project developed in the Ascoli Satriano plant, about joint analysis of turning system consumables, which consist of oils, oily emulsions and tools.
With the goal of re-engineering the turning system, of working cycles, tools and oils used.
Achievements:
45% reduction of oily emulsions disposal with a total reduction of 25ton
6% reduction of the effect of consumable costs on the total cost of products
Increased production efficiency by about 8%
Use of renewable energy- trigeneration
Increased use of electricity from renewable sources (approximately 1 MW) through the installation of photovoltaic systems in Atessa and Ascoli Satriano.
This installation is planned for the current year (2021)
The trigeneration will concern only Atessa plant. It will include 800 Kw electric installation that will be able to generate electricity, but also generate steam needed for hoses production, cold in cooling system and heat for departments winter heating.
The projects are only the beginning of a long trip on the sustainability path >>
Marco Agnifili, IFS COO .
https://www.interpumpfluidsolutions.com/wp-content/uploads/2021/02/Marco-Agnifili_Interpump-Fluid-Solutions_-management-tips_-podcast-2-scaled.jpg
1707
2560
rosellapresenza
https://www.interpumpfluidsolutions.com/wp-content/uploads/2020/11/Logo-300x104.png
rosellapresenza
2021-03-03 08:14:17
2021-05-04 16:24:46
IFS Management Tips: "The future is green, our solutions for a Company increasingly attentive to sustainable development"